Cajun Cuisine – The miracle of American Cuisine
Storage: Store in dry, clean, cool place, avoid direct sunlight and high temperature.
Warnings: Do not use the product after the expiry date.
Shelf life: 24 months NSX & HSD: See on the packaging
Origin: ATLAS FOOD / Germany production – Address: Industriedbe 6, 63801, Kleinostheim, Germany
Cajun spice is the name of a synthetic spice from: paprika, cumin, salt powder, garlic powder, onion powder, black pepper, thyme, dried oregano, cardamom, caraway seed, dried basil, mustard … These spices are mixed, finely ground to create Cajun, very popular in traditional Blackening techniques.
Cajun has the main aroma and aroma due to the use of quite a lot of pepper and chili The spicy taste of Cajun is very gentle, not to anesthetize the tip of the tongue, helps stimulate the taste buds for the eaters. A special feature of Cajun lies in its processing, in fact, there is no specific rule when using Cajun.
Where does Cajun spice come from?
Cajun's true origin comes from the Acadian – a Canadian of French descent living in the southern United States. Therefore, Cajun Cuisine brings a rustic, passionate, harmonious combination of French, American, Canadian and a little African flavor.
Typical dishes of Cajun Cuisine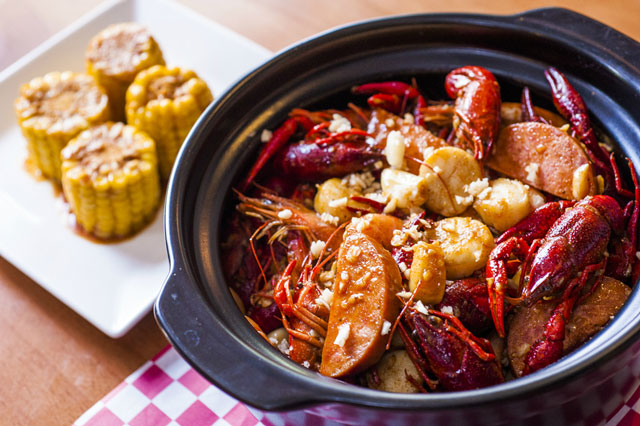 Cajun stone shrimp – a unique shrimp dish must try – Photo: Internet
Rock shrimp: If you have the opportunity to visit Floria, USA, especially the coastal area of ​​Texas, do not forget to enjoy Cajun style shrimp. This type of stone shrimp has a pair of bigger and thicker, sturdy but only about 5cm of the long body meat to eat. So when eating, eaters have to disconnect the shrimp head, remove the tail, squeeze the back. Cajun stone shrimp has a spicy, aromatic flavor due to the presence of mustard seeds, dried bay leaf, cayenne, chili …
Jambalaya: Just a little rice cooked with onion, green pepper, celery and chili, Chef has successfully processed this long-lasting Jambalaya. The dish has a quite rich flavor, a little rustic and rustic.
Cauliflower Soup: The main soup is the French Roux black sauce, made from roasted wheat flour, bacon fat (or olive oil). The soup stirring process takes about 45 minutes until the mixture darkens. Bitter melon soup has a blend of African zucchini, Indian de-leaf leaves and some native American spices, which will surely surprise you when you try it.